Overcoming the Common Challenges in Measuring Thought Leader Engagement for Medical Affairs Teams
Discover solutions to overcome challenges in measuring thought leader engagement for medical affairs teams and effectively identify key performance indicators (KPIs) in this article.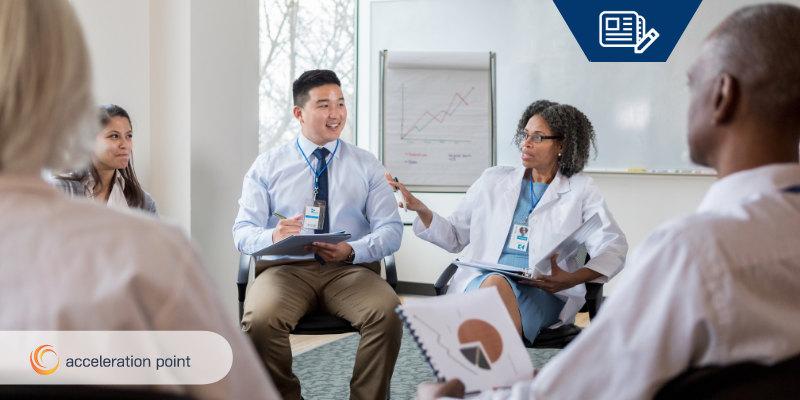 Introduction
Thought Leader Engagement is a crucial aspect of Medical Affairs, as it helps build relationships with Key Opinion Leaders (KOLs) who provide valuable insights, facilitate research collaboration, and advocate for new treatments. However, measuring the success of these engagements can be challenging due to various obstacles in identifying and tracking Key Performance Indicators (KPIs). In this blog post, we discuss some common problems medical affairs teams face when measuring KOL engagement and suggest ways to address these issues.
Lack of KPIs that Measure Impact
Medical affairs teams often lack clear, actionable KPIs that can effectively measure the impact of KOL engagement. As a result, KOL reporting can be overly focused on activities such as the number of interactions, rather than meaningful outcomes. Not being able to communicate how KOL Engagement impacts the success of the broader strategic plan makes it challenging to communicate impact to senior management.
Solution: To address this problem, start by defining the overall impact of medical affairs and the role that KOL Engagement plays in achieving that impact. Establish a clearly defined scientific journey and clear strategies. Then, develop and implement outcome-based KPIs that focus on the quality of interactions and the achievement of specific objectives, aligning these KPIs with the overall impact of medical affairs and the role of KOL Engagement within that context.
CRM Systems Not Aligned
CRM systems may not be optimized to capture the necessary data in a way that can be easily shared and presented to stakeholders, leading to time-consuming data extraction and manipulation.
Solution: When working with any technology provider, including CRM, medical affairs has an important role to play. This includes being clear on your KOL Engagement processes, knowing how you will report on impact and activity, and then being responsible for ensuring that the CRM provider understands the specific data elements you need. Collaborate closely with CRM vendors or internal IT teams to customize the system to better align with KOL engagement objectives and reporting requirements. This might include creating custom fields, improving data visualization capabilities, or integrating other relevant tools to streamline the data management process.
Data Does Not Show How to Coach or Plan
Current KPIs may not provide actionable insights that enable teams to adjust their engagement plans or provide coaching to team members. As a result, medical affairs teams may struggle to optimize their KOL engagement strategy and improve their overall performance.
Solution: Build an integrated story that starts with the impact of medical affairs, then the impact of field medical, and finally the activities that contribute to that impact. Focus on developing KPIs that identify specific areas for improvement, such as gaps in knowledge, underperforming team members, or missed opportunities for engagement. These planning and coaching measures should include indicators of capacity, quality, and outcomes. By leveraging data-driven insights, medical affairs teams can proactively adjust their strategies and provide targeted coaching to improve KOL engagement outcomes.
Conclusion
Measuring Thought Leader Engagement is essential for medical affairs teams to optimize their strategies and demonstrate the value of their efforts to senior management. By addressing the common challenges in identifying and tracking KPIs, medical affairs teams can gain a better understanding of the impact of their KOL engagements and make data-driven decisions that lead to better outcomes. Acceleration Point works with medical affairs teams around the world to communicate the impact of KOL engagement, helps teams utilize their existing technology, and provides the Kwello KOL Engagement & Insights solution to help teams save an average of 15 hours every month. By partnering with experts like Acceleration Point, medical affairs teams can overcome these challenges and unlock the full potential of their KOL engagement initiatives.
Contact us today to learn how we can help define and measure success for Medical Affairs teams.
---
Additional reading on KPIs and Measures for KOL Engagement
Want to discover how to overcome challenges in measuring thought leader engagement for medical affairs teams? In each of the following sections, there is a link to the matching article. If you have any questions, be sure to reach out to us.
Unlocking the Impact of Medical Affairs: Overcoming Challenges in Defining and Measuring Success
Defining and measuring success for Medical Affairs teams can be challenging due to factors like a lack of alignment on what success looks like, inadequate metrics, and limited resources. To unlock the impact of Medical Affairs, teams must first establish a shared vision of success and focus on implementing key metrics.
Mastering CRM Solutions in Medical Affairs: Maximizing Data Collection and Impact Reporting for KOL Engagement
The use of Customer Relationship Management (CRM) solutions can enable Medical Affairs teams to efficiently collect and analyze KOL data to enhance their engagement strategies. By leveraging CRM solutions, teams can increase their productivity and generate insights to create impactful KOL engagement plans. Learn more about maximizing impact reporting on KOL engagement.
The Importance of Coaching Measures in KOL Engagement: Unlocking the Potential of Medical Affairs Teams
Effective coaching measures are essential for Medical Affairs teams to ensure optimal KOL engagement. By providing regular feedback and coaching, teams can improve their communication and interpersonal skills, as well as their ability to foster long-lasting relationships with KOLs. Discover the importance of coaching KOL engagement metrics and how they can unlock the potential of Medical Affairs teams.